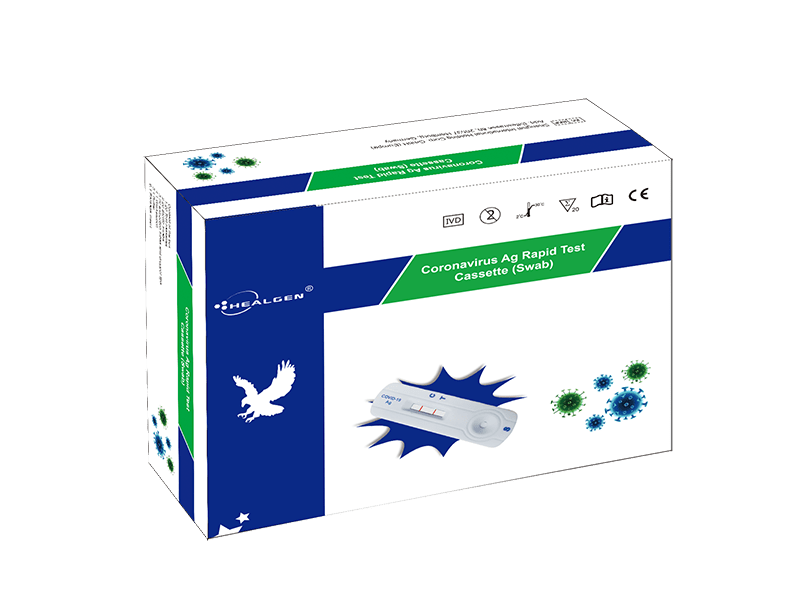 Healgen Antigen Test Kit
COVID-19 Lateral Flow Test Kits / Rapid Tests
RESULTS IN 15 MINUTES

Approved by the NHS and recognised by the DHSC and MHRA, this swab test is intended for the rapid detection of COVID-19.
Product Description
It is intended to aid in the rapid diagnosis of SARS-CoV-2 infections.
The Healgen Covid-19 Antigen Test (Swab) does not differentiate between SARS-CoV and SARS-CoV-2.
Each kit contains everything required to carry out the tests, no additional equipment is needed.
Approved by Public Health England & validated by the UK government.
Results in 15 minutes.
Each kit includes clear instructions and is easy to use.
This test is not for home use.
The Healgen Covid-19 Antigen Test is one of only three UK Government approved Rapid Antigen Test.
This test is intended for use by clinical professionals (eg Doctor/Practice Nurse/Employer Occupational Health departments and more).
Rapid testing for SARS-CoV-2 antigen within 15 minutes
Facilitates patient treatment decisions quickly
Simple, time-saving procedure
All necessary reagents provided & no equipment needed
High sensitivity and specificity
An application for exceptional use of a COVID-19 rapid test, to be used by members of the public for home use, was approved on the 23rd December 2020 by the Medicines and Healthcare products Regulatory Agency (MHRA),
click here
for details. The manufacturer and reseller advice that this kit is not designed for home use.
1 Box
20 Test Cassettes
2 Extraction Buffer Vials
20 Sterile Swabs
20 Extraction Tubes and Tips
1 Workstation
1 Package Insert
1 Case (16.80KG) = 50 Boxes = 1000 Tests
For purchase enquiries, please call us on +44 (0) 20 8839 8888